Best custom made wedding dresses in Auckland
Process of custom made wedding dresses in Ellie Atelier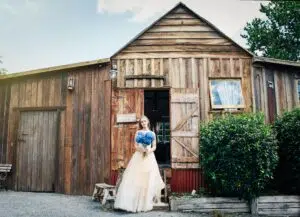 Ellie Atelier specialising in couture gowns, professional Bridal alterations  as well as other wedding services. Discover customised couture wedding gowns and Ellie's sample dresses. Choose your own fabrics and laces from a comprehensive range of laces from all over the world to create your dream dress that reflect your personality.
The goal of the consultation with clients is to come up with a concept for their dream wedding gown. Ellie works in collaboration with brides to find the perfect silhouette. She discuss possible fabric and lace options to best complement their design. After the consultation, Ellie send the pricing options by email with a hand-drawn sketch of the envisaged concept.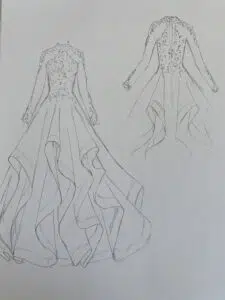 CONFIRMATION
Upon confirmation and finalisation of your gown's design, I require half of the quoted price as a deposit. At this stage I send the samples of the fabrics and laces that will be incorporated into the gown, as well as an intricate hand-drawn sketch of the design that can be kept as a reference while the dress-making process begins.
The creation process typically begins between ten to twelve weeks before the wedding date to ensure a perfect fit. On average, Ellie takes around 12 different measurements to make this a reality.  Once the measurements have been taken, the real work begins.
Ellie Atelier typically recommend a minimum of three fittings. The first fitting is a calico mock up fitting which is all about perfecting the brides' measurement. The second fitting is the base of the gown. For second fitting, Ellie make sure the base dress sits on you perfectly like gloves. And the discussion moves to incorporating the lace into the design, something which occurs between bride and designer to ensure that everyone is on the same page. The third and often final fitting is where the gown is nearly completed except zip or back closure. we talk about custom veils, and any final adjustments or modifications if necessary.
Collection of the completed gown usually takes place two weeks before the wedding. but it depends on what works best. We like to rehearse our brides in the gown to make sure they know how to get the most out of it, including how to get in and out. And also how to hook up the train. Finally, we discuss care options before we hand over your dream gown!